Face
Facelift / S Lift
In time, gravity, sun exposure, and the stresses of daily life take their toll on our faces and necks. Deep creases appear beside the mouth, the jaw line slackens and becomes jowly, and the neck develops loose folds and fat deposits. Facelifts counteract these signs of aging by tightening muscle, removing fat, and trimming excess skin, giving your face a fresher, youthful look. After surgery, some patients look 10-15 years younger.
Facelifts, technically known as rhytidectomies (literally, "removal of wrinkles"), rejuvenate the mid- to lower face and neck. Facelifts are most effective for patients who want to correct:
Midface sagging
Deep creases under the eyes
Deep creases between the nose and mouth (nasolabial folds)
Jowls due to loss of muscle tone
Sagging areas of fat
Loose skin and fat under the chin and jaw
Facelifts can produce a dramatic improvement in appearance for patients with the problems mentioned above. However, facelifts do not stop the aging process; in time, signs of aging will gradually appear once again.
Further, facelifts will not rejuvenate the brow, eyelids, nose, and some of the midface. Patients who want to improve these areas may consider combining a facelift with a brow lift or eyelid surgery (blepharoplasty).
Injectable soft-tissue fillers, facial implants and skin resurfacing can also enhance the effects of a face lift.
Candidates for Face Lift
The best candidates for rhytidectomy:
Wish to improve one or more of the signs of aging indicated above
Are men or women whose faces have begun to sag, but whose skin still has some elasticity
Are generally healthy
Do not smoke
Have realistic expectations
Are considering a facelift for personal reasons, not because someone else is pressuring them to do so
During your consultation, your doctor will discuss whether a facelift is right for you.
Facelift Procedure - Techniques
Facelifts are typically outpatient procedures and may be performed in an office-based facility, surgery center or hospital. Patients may have a choice of IV sedation or general anesthesia. The procedure takes about two hours.
The way a facelift is performed varies depending on the surgeon, the patient's facial structure, and the extent of correction desired. The three most common incision techniques are:
Traditional facelift: The "full" facelift for rejuvenating the face, jowls and neck, including fat sculpting, lifting and repositioning of muscle and deeper tissues, and skin trimming and redraping. The incision begins at the temples and travels down to the front of the ear, around the earlobe, and behind the ear to the lower scalp at the hairline. Sometimes, another incision is made under the chin.

Limited-incision facelift: For limited rejuvenation around the eyes and mouth, including nasolabial folds and other deep creases. Short incisions are made at the temples and around the ear, and possibly in the lower eyelids and/or under the upper lip as well.

Neck lift: A neck lift concentrates on jowls, loose skin on the neck, and fat under the chin. The incision is made around the ear lobe and behind the ear to the lower scalp.
| | | |
| --- | --- | --- |
| Traditional Facelift | Limited-incision Facelift | Necklift |
In all three methods, incisions are closed with stitches or tissue glue. Scars are hidden in the hairline and natural contours of the face.
Recovery from Facelift
After your rhytidectomy, your doctor will wrap the incisions in bandages and may place drainage tubes in the area. The tubes will be taken out the next day, when your hair will be carefully washed. If surgical clips are used to hold the incisions closed, they will be removed one week after the facelift along with your stitches.
At first, you may experience swelling, numbness, bruising, and a feeling of tightness or tension in the face and neck. Your face may look uneven or distorted, and your facial muscles may feel stiff. Most of these usually resolve within 3-6 weeks, and sensation typically returns to normal within a few months. Scars become less red, raised, lumpy or itchy in time.
Many patients return to work by the third week. Camouflage cosmetics can be used to minimize the appearance of bruising.
You should be gentle with your skin and hair as you recover. Men may need to shave behind the neck and ears where areas of beard-growing skin have moved.
Results of Facelift
Results of a facelift do not last forever. You may want to have another procedure in five or ten years. But in another sense, the effects are permanent; years later, your face will continue to look better than if you had never had a facelift.
Risks Associated with Facelift
Possible complications of facelift include: bleeding, infection, bruising, uneven swelling or discoloration, allergic reaction to the anesthesia, skin blistering (usually only seen in smokers), and temporary or permanent loss of sensation in the face. Your doctor will discuss the risks and benefits of a facelift with you before your surgery.
S Lift
An S Lift is a minimally invasive alternative to the traditional facelift procedure that helps patients achieve a more youthful and refreshed appearance through a safe procedure with only a short recovery period.
Like a traditional facelift, the S Lift procedure treats the lower two-thirds of the face, including the cheeks, mouth, neck and jowls. Patients often combine this procedure with others, such as an eye or brow lift, to achieve maximum results. An S Lift can also be combined with skin resurfacing procedures to produce enhanced results with an even smoother and more refreshed appearance.
The S Lift procedure is performed on an outpatient basis in your doctor's office. It may be performed under general anesthesia or local anesthesia with mild sedation. Your doctor will make a narrow S-shaped incision in front of the ear, which allows scars to be easily concealed within the hairline and contours of the face. During the procedure, the skin is lifted and the underlying muscles and tissue are tightened, and excess fat is removed.
After the procedure, patients may experience some bruising and swelling for up to 10 days. Most patients can return to work and other normal activities a few days after the procedure. Your doctor will instruct you on how to conceal any bruising or swelling that may remain when you are ready to return to work. Exercise should be avoided for a month after the procedure.
Results are visible immediately and will continue to improve as swelling and bruising subside. Patients will enjoy a natural, fresher and more youthful appearance in the lower face, jowls and neck after this procedure. Although this procedure does not make patients immune to further effects of aging, it will leave them looking younger than they would have without any procedure.
Although the S Lift procedure is considered safe, there are certain risks associated with any surgical procedure. Some of these risks include bruising, swelling, reaction to anesthesia, asymmetry and infection. Most of these potential complications are mild and go away on their own after a short time.
If you are interested in learning more, please call us today to schedule a consultation.
Necklift
The neck may sag as a result of aging or weight loss, and is often affected before the face. Loose neck muscles can lead to an appearance of bands on the neck or drastic drooping of the skin. A neck lift is a surgical procedure that can smooth and tighten the skin on the neck and provide a more toned and youthful appearance. The results of this procedure offer a drastic improvement to the appearance of the neck and subtle changes to overall appearance. A neck lift may be performed alongside a face lift, or may be performed alone, after which your friends and family may not even realize that a surgical procedure was performed.
Candidates for NeckLift
A candidate for a neck lift may be anyone who wants to get rid of sagging skin and loose muscles on their neck. Good candidates are also in good physical and emotional health and have realistic expectations about the outcome of their surgery. You can discuss the goals of your surgery with your surgeon so that you can achieve the results you desire.
Procedure
The neck lift procedure begins with making a small, inconspicuous incision directly below the chin, and in some cases behind the crease of the ears as well. The neck lift includes both a cervicoplasty to remove excess skin and a platysmaplasty to remove or alter muscles in the neck. Liposuction can also be used to remove excess fat during a neck lift. The incisions will then be sutured closed and the neck lift is completed. The entire neck lift procedure takes two to three hours and may be performed under general or local anesthesia with sedation, depending on the preference of the patient. Most procedures are performed on an outpatient basis.
Recovery
You can expect to experience some swelling and bruising shortly after the neck lift procedure, which may last up to ten days. Patients are advised to keep their head still and avoid turning or twisting for the first few days. Applying cold compresses and keeping the head elevated for the first 48 hours following neck lift surgery can help minimize swelling. Prescription medication is also available to help alleviate any discomfort. The sutures will usually be removed after about one week. After a neck lift procedure, most people can return to work and other normal daily activities within two weeks, after bruising and swelling subside. More strenuous activities should be avoided for about four to six weeks.
Results
Sagging skin, wrinkles along the neck, or the appearance of a double chin can make you appear much older than you really are. By removing pockets of fat from the chin and neck area, eliminating drooping bands of muscle, and tightening loose skin and muscles, a neck lift can help you regain your slender, youthful appearance. A neck lift can also be used in combination with a facelift and/or facial liposuction to further redefine the jaw line and optimize your results. Most patients who undergo neck lift surgery are extremely pleased with the results. The results of a neck lift can last up to ten years, and as you continue aging, you will always look younger than if you had never had a neck lift.
Risks and Complications
As with any surgical procedure, there are certain risks involved in a neck lift, including problems with anesthesia or infection. After the surgery, you may experience dry skin, tightness, and a burning or tingling sensation. There is also a risk of facial nerve damage that may occur during surgery and can result in muscle paralysis. Although these complications are rare, they emphasize the importance of choosing a skilled and experienced surgeon for your cosmetic procedures.
To learn more about the neck lift procedure, please call us today to schedule a consultation.
Eyelid Surgery
Several factors such as aging, sun damage, smoking, stretching and obesity can cause the eyelids to droop and sag as the supporting tissues deteriorate. This area is often one of the first to deteriorate, as the skin of the eyelid is thinner than the rest of the face. Eyelids that droop or bulge can cause people to appear much older or fatigued than they actually are.
Blepharoplasty, also known as eyelid surgery, is a surgical procedure that improves the appearance of the upper and lower eyelids by tightening muscles and tissue or removing excess fat and skin. This procedure can be performed on men and women alike and offers a younger, more refreshed look that reflects across the whole face.
Blepharoplasty is now the most popular facial plastic surgery procedure after rhinoplasty. The popularity of this procedure reflects the importance of the eyes in perfecting overall appearance. In fact, two-thirds of adults consider the eyes to be the defining feature of the face. If you are unhappy with the appearance of your eyes, you may want to consider blepharoplasty to improve your look and boost your confidence through a safe procedure with minimal downtime.
Candidates
The best candidates for blepharoplasty are individuals who are in good overall health and who do not smoke or have any serious eye conditions. If you have loose, sagging skin or puffy bags around your eyes, this procedure can help reduce these unwanted effects and leave the eyes looking young and fresh.
It is important for patients to have realistic expectations before undergoing surgery in order to be satisfied with their results. While this procedure can enhance your appearance and may improve self-confidence as a result, it cannot alter your entire appearance or change the structure of your face.
Procedure
The blepharoplasty procedure is performed under local anesthesia with sedation. General anesthesia may be used for anxious or nervous patients. Patients may choose to have this procedure on their upper or lower eyelids, or both. Depending on these choices, the procedure can take anywhere from 45 minutes to 2 hours.

If the upper eyelid is being treated, an incision is made along the natural crease of the eyelid. Once the incision is made, your doctor may reposition fat deposits, tighten muscles and tissue or remove excess skin in order to leave the eye looking younger and refreshed.
For the lower eyelid, an incision is made just below the lash line in order for excess skin to be removed.

After the procedure is performed, the incisions are closed with sutures and usually wrapped in gauze to allow the area to heal.
Recovery
After the blepharoplasty procedure, your doctor may recommend applying lubricating ointment and cold compresses to aid the healing process and minimize side effects such as swelling, bruising, irritation or dry eyes. The eyes may be wrapped in gauze after the procedure as well.
Patients can usually return to work within two days, but should avoid exercise and strenuous activities for at least two weeks. Swelling and other side effects usually subside within two weeks after surgery. Your doctor will give you specific instructions on how to care for your eyes are surgery.
Results
Results of a blepharoplasty procedure are visible as swelling and bruising subside and will continue to improve for up to a year after surgery. This procedure is designed to produce long-lasting results. While surgery cannot prevent your eyes from aging, most patients are satisfied with their results and do not seek repeat procedures.
The scars from the blepharoplasty procedure are usually well concealed and will fade with time until they are virtually unnoticeable. The incision is hidden in the crease of the eyelid in an upper blepharoplasty, and just below the lashes in a lower blepharoplasty.
Risks
As with any surgical procedure, there are certain risks associated with this procedure. Although rare, these risks include bleeding, infection, dry eyes, skin discoloration and an inability to fully close the eyes. Many of these risks can be minimized by choosing an experienced surgeon and following proper care instructions after surgery. You can discuss these risks, along with any other concerns you may have, with your doctor to reduce anxiety and worries about your surgery.
To learn more about Eyelid Surgery, please call us today to schedule a consultation.
Brow Lift / Lateral Brow Lift
Brow lifts can revitalize drooping or lined foreheads, helping you look less angry, sad or tired. Using either traditional or minimally invasive (endoscopic) methods, brow lifts involve the removal or alteration of the muscles above the eyes to smooth lines and raise the eyebrows for a more youthful appearance. The procedure is often combined with other operations such as blepharoplasty (eyelid surgery) and facelifts to improve the look of the eyes and other areas of the face.
While brow lifts are typically performed on patients aged 40-60 to counteract the effects of aging, anyone with lined or inelastic skin on the forehead - whether it's caused by muscle activity or inherited conditions - are eligible. The procedure is usually performed in an office-based facility or surgery center under local anesthesia and sedation.
If you aren't sure that you want a brow lift, try standing in front of a mirror and placing the palms of your hands to the sides of your eyes above the eyebrows. Then pull the skin back from the eyes, raising the forehead. This is approximately how the procedure will make you look.
Browlifts may be performed in one of two ways: with conventional methods, in which the incision is hidden beneath the hairline (for patients with thinning hair, who are bald or who have had previous surgery in the area, the incision will likely be moved somewhere less conspicuous); or with an endoscope, in which a tiny camera and instruments are inserted through a few small incisions. Both techniques produce similar results. You and your surgeon will discuss which option is better for you.
Note: Patients with very short hair may want to let it grow before surgery to better camouflage the healing scar.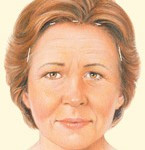 Traditional Brow Lift: First, the patient's hair is tied with rubber bands near the incision site. Then the surgeon makes a coronal (headphone-shaped) incision behind the hairline, stretching between the ears and across the top of the forehead. The incision may be placed further back or made along the skull bone joints to minimize visibility in patients with thinning hair or who are bald. Then the forehead skin is lifted, tissue is removed, muscles are adjusted and the eyebrows may be lifted. Excess skin is trimmed and the incision is closed with stitches or clips. The site is washed and the rubber bands are removed. Some surgeons will protect the stitches with gauze or bandages.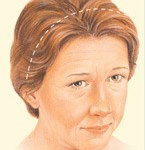 Endoscopic Brow Lift: After the hair is tied as with the traditional procedure, the surgeon makes three to five short incisions (less than an inch long) behind the hairline. The endoscope is placed in one so the surgeon can see beneath the skin without having to make a large incision, while he or she lifts the skin and adjusts muscles through the other incisions. If the eyebrows are lifted they will be stitched or screwed (temporarily) into place. The site is washed and the rubber bands are removed. Some surgeons will protect the stitches with gauze or bandages.
Traditional surgery patients may experience some numbness and discomfort at the incision. Numbness could be replaced by itching, which will subside within six months. Your head may need to be elevated for two to three days to reduce swelling. Bandages are removed in one to two days, and stitches or clips are taken out in two weeks. Hair near the incision may fall out or thin, but normal growth should return within weeks or a few months.
Endoscopic surgery patients may experience some numbness, discomfort and swelling around the incisions, though there is less itching than with traditional surgery. Stitches or staples are removed in a week; temporary fixation screws are taken out within two.
With both procedures, you will be on your feet and able to wash your hair in a day or two, and many patients return to work or school in 7-10 days or less. Swelling and bruising should fade by the third week.
Complications are rare and usually minor but may include temporary numbness, nerve injury, hair loss along scar edges, formation of a broad scar requiring surgical correction, and infection and bleeding.
Lateral Brow Lift
One of the earliest signs of aging is the drooping or lowering of the eyebrows. A lateral brow lift, also known as a temporal brow lift, is a surgical procedure to reduce the drooping and sagging of the outer brow line. This technique is ideal for patients who are primarily concerned with the sagging at the ends of their eyebrows.
During a lateral brow lift, incisions are made in the hairline at the temples. The procedure removes excess skin which lifts the outer corners of the forehead. Unlike a full brow lift, a lateral brow lift will not raise the middle of the brow, but it will instead help alleviate the creases at the outer corners of the eyes, more commonly known as crow's feet.
A lateral brow lift is less invasive than a traditional brow lift and carries a lower risk of infection and other complications. As with any face lift procedure, the ideal lateral brow lift candidate is someone with some elasticity to the skin and a strong bone structure.
To learn more about Brow Lifts, please call us today to schedule a consultation.