Non-Surgical
Wrinkle Reduction
BOTOX® Cosmetic
BOTOX® Cosmetic is a simple, non-surgical, physician/practitioner-administered treatment that can temporarily smooth moderate to severe frown lines between the brows in people eighteen years of age or older. It is the only treatment of its type approved by the Food and Drug Administration (FDA). One 10-minute treatment - a few tiny injections - and within days you'll see a noticeable improvement in those persistent lines between the brows, which can last up to 4 months.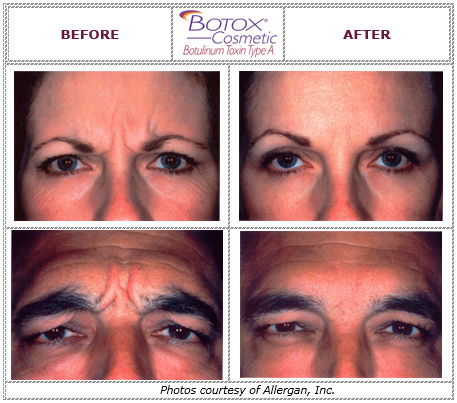 Dysport ®
Dysport® is an FDA-approved injection treatment that reduces the appearances of fine lines and wrinkles by relaxing facial muscles on the forehead. Similar to BOTOX® Cosmetic, Dysport is injected directly into the site of wrinkles to prevent the underlying muscles from contracting. However, Dysport can diffuse muscles one to three centimeters from the injection point, while Botox can only reach as far as one centimeter, allowing for results that reach further areas with just a single injection.
Dysport was developed in Europe during the early 1990s, and has been used successfully for several years. It has also been used in the US under the name Reloxin, but was mandated to be FDA approved under its original name, Dysport. In April 2009, Dysport was approved by the FDA for use in the US and is expected to rival Botox, the most popular cosmetic procedure, with its convenience and long-lasting results.
In addition to treating fine lines and wrinkles, Dysport can also be used to relieve excessive underarm sweating, and treat the symptoms of cervical dystonia, such as neck pain and abnormal head position.
To learn more about Dysport injections, please call us today to speak with one of our doctors or schedule a consultation and find out you can benefit from this procedure.
Restylane®
Restylane® is a safe and natural cosmetic dermal filler that restores volume and fullness to the skin to correct wrinkles, lift facial contours, and enhance lips. Recently FDA-approved, Restylane's results are dramatic and long-lasting. One of the most significant factors of this breakthrough treatment is that it lasts for six months to a year. The crystal-clear gel is injected into the skin and plumps up wrinkles to fill them in. It works so safely and effectively, because it contains Hyaluronic Acid which is naturally found in the skin and other tissues.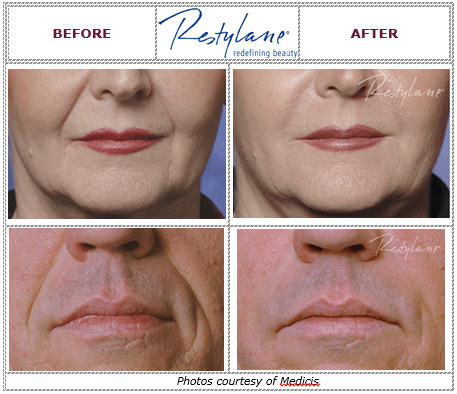 Juvederm® XC
Juvederm® XC is an injectable gel is for injection into areas of facial tissue where moderate to severe facial wrinkles and folds occur to temporarily add volume to the skin, especially around the nose and mouth.
Touted as the "next generation" of facial fillers, JuvédermTM injectable gels gently smooth wrinkles and folds around the mouth and nose and restore a youthful volume to the face. Made with hyaluronic acid, a natural substance found in the body that works with collagen and elastin to provide volume and support to the skin, JuvédermTM is especially effective on smile lines and "parentheses" (nasolabial folds) that run from the bottom of the nose to the sides of the mouth. Treatment takes only 15 minutes with immediate results and no downtime. Results typically last about 6-9 months.
Juvederm Voluma ® XC
Juvederm Voluma® XC injectable gel is for deep injection in the cheek area to correct age-related volume loss in adults over the age of 21.
The first and only FDA approved filler to correct age related volume loss in the midface. With optimal treatment, natural looking results last up to 2 years.
Radiesse®
RADIESSE® Volumizing Filler is FDA-approved for subdermal implantation for the correction of moderate to severe facial wrinkles and folds, such as nasolabial folds.
With just one treatment of Radiesse® Volumizing Filler wrinkles and folds disappear.
The best solution for erasing lines and folds is to replace lost structure with immediate volume. RADIESSE® Volumizing Filler works immediately so the results are instant. Once injected, RADIESSE Volumizing Filler adds the volume and lift needed to diminish the signs of aging. What makes RADIESSE truly unique is the ability of the product to act as a scaffold under the skin, providing structure and stimulating your own natural collagen to grow. The production of natural collagen continues for several months, which extends beyond the initial effect of RADIESSE Volumizing Filler. Best of all, the natural results are clinically proven to last a year or more in many patients, which means more value from each treatment and long-lasting results.
Why choose RADIESSE® Volumizing Filler?
It is the only wrinkle filler that immediately replenishes lost volume and stimulates the production of your own natural collagen for long-lasting results
It is clinically proven to last a year or more in many patients
RADIESSE patients are significantly more satisfied than patients treated with other leading wrinkle fillers
It is FDA approved to mix with lidocaine, an anesthetic, to significantly reduce injection related pain
Wrinkle treatments with RADIESSE Volumizing Filler are quick and convenient, with immediately visible, long-lasting results. Immediate results and natural collagen stimulation - it gets better with RADIESSE Volumizing Filler.
Sculptra™
Sculptra™ is an injectable product that restores and corrects the signs of facial fat loss by replacing lost volume. This FDA-approved substance actually stimulates your body to produce its own collagen for a long-lasting, natural look. Sculptra works by both filling in lines and wrinkles and by stimulating the body to produce new collagen and underlying tissue, thereby creating a fuller, more youthful appearance. Facial fat loss, or lipoatrophy, is the loss of fat beneath the skin, which can result in sunken cheeks, indentations, and hollow eyes. Sculptra provides a gradual and significant increase in skin thickness, improving the appearance of wrinkles, folds and sunken areas.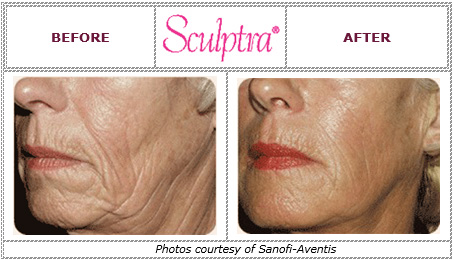 Laser Services
Light Amplification by Stimulated Emission of Radiation or "Laser" therapy consists of sending a special wave of light to a target in or below the skin's surface. This light heats the area, creating a specific reaction that at resolution gives the desired cosmetic result. Depending on the type of laser, a host of problems can be treated. All laser treatments are minimally painful and are associated with little to no "down" time.
Laser Skin Resurfacing (Non ablative)
Laser skin treatment is an innovative, technologically advanced way to promote vibrant and healthy looking skin in both men and women. Now you too can have a youthful appearance by treating those conditions that are typically associated with premature signs of aging, such as unsightly facial veins, redness and sun damaged skin. Laser skin treatment can reduce visible facial vessels, as well as diffuse redness, by gently warming the upper dermis, improving the appearance of your skin. The result is a healthy looking and vibrant appearance.
Laser Treatment of Acne
Millions of young Americans suffer with acne. The great majority can get relief with the use of lotions, creams, and on occasion low dosage antibiotics. Some have acne that fails to respond to traditional treatments. This can result in scarring and damage not only to one's skin but also to one's psychological well-being. Accutane® is a valuable and effective remedy for severe resistant acne, but it carries a risk of significant side effects. It is because of concern about these side effects that there has been an ongoing search for safer treatments for acne.
At Indulgence the CoolTouch® laser is being used effectively to suppress and control severe acne and to improve scarring that has already occurred. Laser treatment of acne allows individuals to avoid the side effects of Accutane®. Call Indulgence for a complimentary consultation to determine whether or not you are a candidate for laser treatment of your acne.
Laser Hair Reduction
During laser hair reduction, the laser pulses for just a fraction of a second, heating the hair follicle and impairing its ability to re-grow. Significantly less hair grows back with each treatment… ultimately resulting in your goal of permanent hair reduction. The number of treatments required varies from individual to individual. Hair growth cycles differ on different parts of the body. Your skin and hair color, coarseness of hair as well as age, metabolism and other individual factors influence hair growth rate. Our experienced professionals will work with you in designing a schedule to optimize your results.
Laser Vein Removal
Indulgence provides laser technology to treat spider and reticular veins on both face and legs. Laser vein therapy is a revolutionary medical technique which uses patented technology to eliminate benign vascular and pigmented lesions non-invasively.
Titan™
This procedure utilizes Infrared Light to produce a gentle skin tightening that does not require any anesthetic cream. The procedure requires no skin preparation and does not leave any bruises or scars.
Intense Pulsed Light (IPL) Therapy
Intense pulsed light (IPL) therapy is a "quick-fix" procedure requiring virtually no downtime to rejuvenate the skin and restore a youthful glow. IPL stimulates new collagen to form in the skin thereby reducing fine lines, minimizing pore size and acne scars, and increasing skin elasticity. Intense pulsed light also diminishes flushing or redness of the face associated with Rosacea, reduces brown spots, erases broken capillaries, and smoothes roughly textured skin.
IPL therapy consists of a series of 4 to 6 treatments, in which an intense flash of light is emitted similar to the flash of a camera. IPL passes through the top layer of skin (epiderrmis) and penetrates to the deeper layer (dermis) where blood vessels, pigment cells, and collagen are found. Because the epidermis is unharmed, the severe redness and peeling associated with traditional laser skin resurfacing is avoided.
Any skin can be treated with IPL including skin on the face, neck, chest, back, hands, arms, and legs. The actual procedure time varies depending on the size of the area treated. IPL therapy of the full face may take 20 minutes, while treatment of the face, neck and chest may take as long as 45 minutes.
Topical cream anesthesia can be applied one to one and a half hours prior to intense pulsed light treatment to reduce any stinging sensation. Abnormal blood vessels are typically not anesthetized due to constriction and blanching of the blood vessels, making visualization of the vessels difficult.
IPL treatments of freckles or brown spots usually require no downtime, and you can return to normal daily activities immediately. Over a 2 to 3 week period any brown spots or freckles will darken and then flake off. IPL treatments of abnormal redness or vessels usually have minimal downtime, as well, although some patients experience purple discoloration as the intense pulsed light ruptures the blood vessels. Camouflage makeup can conceal any discoloration, and it usually resolves in about a week.
After IPL therapy, it is especially important to wear sunscreen and a hat to avoid sun exposure and prevent discoloration or recurrence of sun damage, brown spots, and lines.
If you want to erase skin damage, improve your appearance, and look your best, please contact us for more information about Intense Pulsed Light (IPL) or to schedule an appointment.
Spa Services
Microdermabrasion
Microdermabrasion is a technique for removing the topmost layer of skin leaving it supple and vibrant. This layer of skin is removed by gently exfoliating the skin, while at the same time vacuuming the dead skin cells away in a sterile and controlled manner. Removing this outer layer of skin cells leaves a smoother texture and promotes the growth of healthy new skin cells. The treatment is used to diminish the appearance of scars, acne scarring, facial spots and wrinkles. Each treatment takes from 30 minutes to an hour. The number of treatments recommended for maximal results can range between 4 and 12, spaced from 2 to 3 weeks apart. Maintenance of results requires periodic repeat treatments after the initial regimen is completed. Microdermabrasion may be combined with a light chemical peel to increase the effect.
Facials
Our therapeutic facial treatments provide not only corrective benefits for your skin but also deep relaxation and relief from stress. A facial is a skin treatment that deeply cleanses and maintains the skin by exfoliating excess dead skin cells. The goal is to maintain smooth, well-hydrated skin. A facial involves a few basics steps: cleansing, skin analysis, exfoliation, massage, extraction of blackheads and other impurities, and application of products targeted to your skin type (dry, oily, mixed, sensitive, blemished, mature). We offer several types of facials including hydrating, deep pore cleansing, and acne.
Each treatment is tailored to meet your individual skincare needs by targeting specific concerns and helping to resort optimum skin health. A thorough consultation precedes your treatment so that we can ensure maximum results and make appropriate homecare suggestions that will prolong and enhance the benefits of your facial.
Chemical Peels
The types of chemical peels we offer are gentle, non-toxic, light to medium range peels. Peels help to stimulate, firm, and tighten the skin, and are also great for treating acne and some types of scars and uneven pigmentation. Chemical peels speed up your skin's natural exfoliating process, thereby enabling new, healthier cells to come to the surface quicker. The result is a healthier, more youthful appearance and a more even tone and texture. Peels can be performed anywhere on the body.
Herbal Peels
Made of pure and natural plant ingredients and plant hormones, an herbal peel causes the upper layers of the skin to gradually peel off, and increases the blood circulation to the skin, promoting healing. The peel further causes skin to regenerate and produce new collagen fibers. The herbs own micro particles lightly polish the upper layers of skin (epidermis removal). Other active ingredients in the herbal preparation penetrate the skin and are absorbed by the cutis within 48 hours. They'll release valuable, natural active substances such as vitamins, plant hormones, enzymes and other beneficial ingredients into the skin. An herbal peel can be performed anywhere on the body, and is great for treating:
Impure oily skin, disturbed pores
Sagging face contours, wrinkled, sun-damaged skin (atrophy, elastosis)
Scars
Slack abdominal wall, thighs, upper arms
Cellulite
Aged hands (sagging wrinkled skin, spots)
Waxing
Certainly you have more important things to concern yourself with than, "Did I shave today?" Enjoy life, we'll take care of the details. Call for your appointment today. Waxing is done on all areas of body for men and women.
Permanent Makeup
Using new micro-pigmentation techniques, eyebrows can be recreated or enhanced. Soft eyeliner can enhance the eyes and lip liner can create fuller lips. Great for women who have thin or no eyebrows, who are allergic to cosmetics, and who suffer from alopecia, or poor eyesight. A consultation is required.
Special Programs
Weight Reduction Program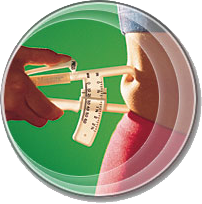 "Let us help you develop a plan for healthy nutrition and exercise so you can lose your extra pounds"
Being obese or severely obese puts you at a higher risk for developing or worsening many serious medical conditions. There are more than 30 obesity-related medical conditions that can damage your quality of life and cause early death. Some obesity-related medical conditions include arthritis, several cancers, carpal tunnel syndrome, cardiovascular disease, gallbladder disease, gout, hypertension, infertility, liver disease, low back pain, obstetric and gynecologic complications, sleep apnea, stroke, type 2 diabetes, and urinary stress incontinence.
The goal of the program is to help you reduce your weight and develop a plan to maintain a healthy weight and lifestyle by balancing your food intake and your physical activity. Fat reduction will make you healthier and decrease your chances of getting diabetes, hypertension, stroke and other chronic illnesses.
We require that our patients commit to weekly evaluations because we have found that weekly visits to the clinic are the key ingredient to the success of our program.