Wrinkle Reduction
BOTOX® Cosmetic
BOTOX® Cosmetic is a simple, non-surgical, physician/practitioner-administered treatment that can temporarily smooth moderate to severe frown lines between the brows in people eighteen years of age or older. It is the only treatment of its type approved by the Food and Drug Administration (FDA). One 10-minute treatment - a few tiny injections - and within days you'll see a noticeable improvement in those persistent lines between the brows, which can last up to 4 months.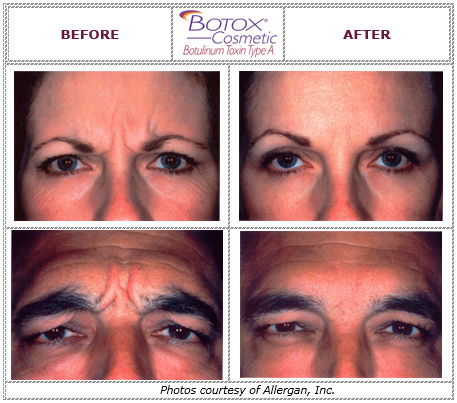 Dysport ®
Dysport® is an FDA-approved injection treatment that reduces the appearances of fine lines and wrinkles by relaxing facial muscles on the forehead. Similar to BOTOX® Cosmetic, Dysport is injected directly into the site of wrinkles to prevent the underlying muscles from contracting. However, Dysport can diffuse muscles one to three centimeters from the injection point, while Botox can only reach as far as one centimeter, allowing for results that reach further areas with just a single injection.
Dysport was developed in Europe during the early 1990s, and has been used successfully for several years. It has also been used in the US under the name Reloxin, but was mandated to be FDA approved under its original name, Dysport. In April 2009, Dysport was approved by the FDA for use in the US and is expected to rival Botox, the most popular cosmetic procedure, with its convenience and long-lasting results.
In addition to treating fine lines and wrinkles, Dysport can also be used to relieve excessive underarm sweating, and treat the symptoms of cervical dystonia, such as neck pain and abnormal head position.
To learn more about Dysport injections, please call us today to speak with one of our doctors or schedule a consultation and find out you can benefit from this procedure.
Restylane®
Restylane® is a safe and natural cosmetic dermal filler that restores volume and fullness to the skin to correct wrinkles, lift facial contours, and enhance lips. Recently FDA-approved, Restylane's results are dramatic and long-lasting. One of the most significant factors of this breakthrough treatment is that it lasts for six months to a year. The crystal-clear gel is injected into the skin and plumps up wrinkles to fill them in. It works so safely and effectively, because it contains Hyaluronic Acid which is naturally found in the skin and other tissues.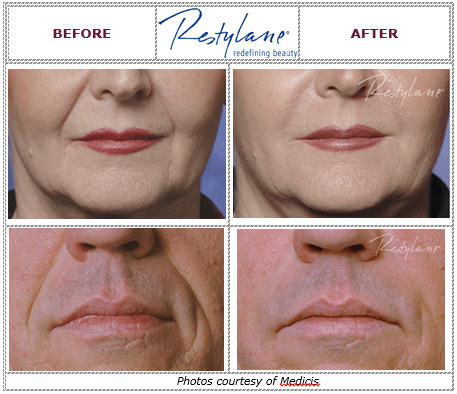 Juvederm® XC
Juvederm® XC is an injectable gel is for injection into areas of facial tissue where moderate to severe facial wrinkles and folds occur to temporarily add volume to the skin, especially around the nose and mouth.
Touted as the "next generation" of facial fillers, JuvédermTM injectable gels gently smooth wrinkles and folds around the mouth and nose and restore a youthful volume to the face. Made with hyaluronic acid, a natural substance found in the body that works with collagen and elastin to provide volume and support to the skin, JuvédermTM is especially effective on smile lines and "parentheses" (nasolabial folds) that run from the bottom of the nose to the sides of the mouth. Treatment takes only 15 minutes with immediate results and no downtime. Results typically last about 6-9 months.
Juvederm Voluma ® XC
Juvederm Voluma® XC injectable gel is for deep injection in the cheek area to correct age-related volume loss in adults over the age of 21.
The first and only FDA approved filler to correct age related volume loss in the midface. With optimal treatment, natural looking results last up to 2 years.
Radiesse®
RADIESSE® Volumizing Filler is FDA-approved for subdermal implantation for the correction of moderate to severe facial wrinkles and folds, such as nasolabial folds.
With just one treatment of Radiesse® Volumizing Filler wrinkles and folds disappear.
The best solution for erasing lines and folds is to replace lost structure with immediate volume. RADIESSE® Volumizing Filler works immediately so the results are instant. Once injected, RADIESSE Volumizing Filler adds the volume and lift needed to diminish the signs of aging. What makes RADIESSE truly unique is the ability of the product to act as a scaffold under the skin, providing structure and stimulating your own natural collagen to grow. The production of natural collagen continues for several months, which extends beyond the initial effect of RADIESSE Volumizing Filler. Best of all, the natural results are clinically proven to last a year or more in many patients, which means more value from each treatment and long-lasting results.
Why choose RADIESSE® Volumizing Filler?
It is the only wrinkle filler that immediately replenishes lost volume and stimulates the production of your own natural collagen for long-lasting results
It is clinically proven to last a year or more in many patients
RADIESSE patients are significantly more satisfied than patients treated with other leading wrinkle fillers
It is FDA approved to mix with lidocaine, an anesthetic, to significantly reduce injection related pain
Wrinkle treatments with RADIESSE Volumizing Filler are quick and convenient, with immediately visible, long-lasting results. Immediate results and natural collagen stimulation - it gets better with RADIESSE Volumizing Filler.
Sculptra™
Sculptra™ is an injectable product that restores and corrects the signs of facial fat loss by replacing lost volume. This FDA-approved substance actually stimulates your body to produce its own collagen for a long-lasting, natural look. Sculptra works by both filling in lines and wrinkles and by stimulating the body to produce new collagen and underlying tissue, thereby creating a fuller, more youthful appearance. Facial fat loss, or lipoatrophy, is the loss of fat beneath the skin, which can result in sunken cheeks, indentations, and hollow eyes. Sculptra provides a gradual and significant increase in skin thickness, improving the appearance of wrinkles, folds and sunken areas.